Videos of our toobular Antics
Our Record-Breaking English Channel Swim
Watch our progress, media coverage and fun, in 5 short videos.
Click toobs below to watch the playlist:-
Lost Overboard
An very emotional documentary of the loss of toobs overboard at night while at sea, and the efforts of hundreds of people to help find her again.
Click below to watch the 18 minute video - Have a hankies ready!
Racing for Great Britain
A series of vblogs recording the epic journey of Team toobs driving 2,000 miles to the Czech Republic to race for Great Britain with 2,000 other dogs in the ECF European Canicross and Bikejor Championships in 2016.
Click below to start the show, or select from the videos when you get there. Like here>  Race Day One - 'The day I almost died!'
Sailing the Seven Seas
Follow the delivery journey of a little yacht in three short music videos as Tt Wayne and crew experience everything from flat calm to 6ft waves, Force 0 to Force 8, dolphins, mermaids, and oodles of lovely coastline.
Click below to watch the three short music videos:-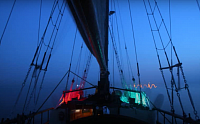 Generation Journey - Swamp Thing
A Generation Journey
An explosive music video showing the epic 10-day journey of Team toobs and a crew of eight aboard an 1888 Russian built Dutch Barge.
After spending months completely redesigning and rebuilding the rigging, Tt's Wayne then skippered the 95ft iron clad monster from Wales to East Anglia - punching their way around Land's end in a F6, and creeping through Dover at night in thick fog, are just a couple of the adventures to be had as they navigate their way through some of the world's most dangerous and busy waters.
Enjoy the fun that the very hard-working crew had throughout, and then into the end-of-passage party - all to the pumping backing track of The Grid's 'Swamp Thing'.