World Record! - First Dog to Swim the English Channel!
Unique Team toobs toobular Kid Nightshirt
toobular Kid Art Competition Winners Announced
Check out the winners of our toobular Kid Art Competition and drool at all the merchandise they have won.
If you fancy some of these unique prizes, we will be opening up a shop where you will be able to buy personalised goodies similar to the unique ones won by our toobular Artists.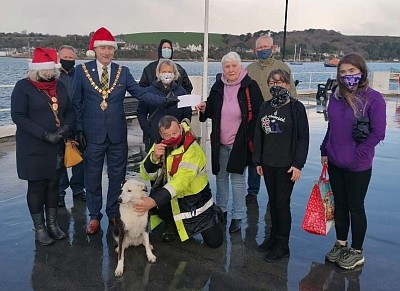 The Worshipful Mayor and Mayoress of Falmouth recieve the victorious toobs at The Prince of Wales Pier, Falmouth
***STOP PRESS***
She did it! The first dog to swim The English Channel!
Well done, toobs!
  ***STOP PRESS*** 
On Christmas Eve 2020 at The Prince of Wales Pier, Falmouth Cornwall at 2pm, toobs completed her final leg of the Channel Crossing and swam into the record books.
Their Worshipful Mayor and Mayoress of Falmouth Steve and Vicky Eva congratulated toobs as she climbed the steps after her final swim for the record. The Mayor and Mayoress rewarded her for her efforts with a generous £100 towards our target for our two doggy charities.
We had some lovely representatives from The Last Chance Hotel charity receive their cheque from The Mayor personally after they congratulated Team toobs for their achievement.
Our other great charity PupCakes were unable to attend due to Covid regulations.
Thanks to all those who ventured out in the squally weather to welcome us home. It was a truly lovely occasion.
A great thanks to all of you who have generously donated to our wonderful charities - we wish you all a very merry Christmastime and wish you all the very best for 2021.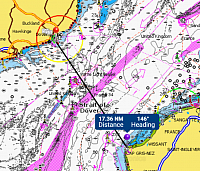 The Channel Crossing Route
The Challenge
"toobs" - the amazing wonder dog, challenged reality again by setting a record-breaking venture to swim the distance of 17.36nm (20 miles) across The English Channel to raise money and awareness for difficult-to-home rescue dog charities.
Resting between swims aboard her floating home and support boat 'SV Stray', she swam one or two legs each day until the distance across The English Channel was reached. It took 37 days to complete! 
The route measured begins at the end of Admiralty Pier, Dover, England and heads for Cap Gris-Nez, (Cape Grey Nose!) Pas-de-Calais, France.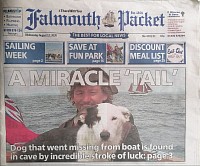 Headline News
A Miracle Swim
Earlier last year, the amazing story of toobs being lost overboard went viral.
During a night sail, she secretly tried to jump into our towed dinghy, missed, and had to swim 2.5 miles ashore!
Despite a huge search with Police, Coastguard and hundreds of friends and locals on land and sea, she was not rescued until the next day, by two young students who found her resting in a sea cave.
To watch a short film (18 min) of toobs' mis-adventure: grab a box of tissues, sit down, and click on the link on the image below.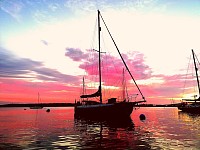 Support Vessel - SV Stray
The Seed is Planted
Due to toobs' mis-adventure, and the huge media frenzy surrounding a good salty-seadog story, she has now become somewhat of a national celebrity, and is recognised most every day in the streets, fields, watering holes, and wet patches throughout Cornwall and beyond.
Meeting fans, as she swims every day, it has been suggested that toobs could probably swim across the English Channel....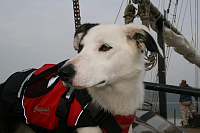 Random...
toobs was underway!
The video below is of toobs' first day of swimming and includes scenes such as:
The huge, all female, socially distanced, send-off crowd
Spectacular views of lots of sea
toobs swimming a lot
Amazing cinematography
A huge pinch of sea salt